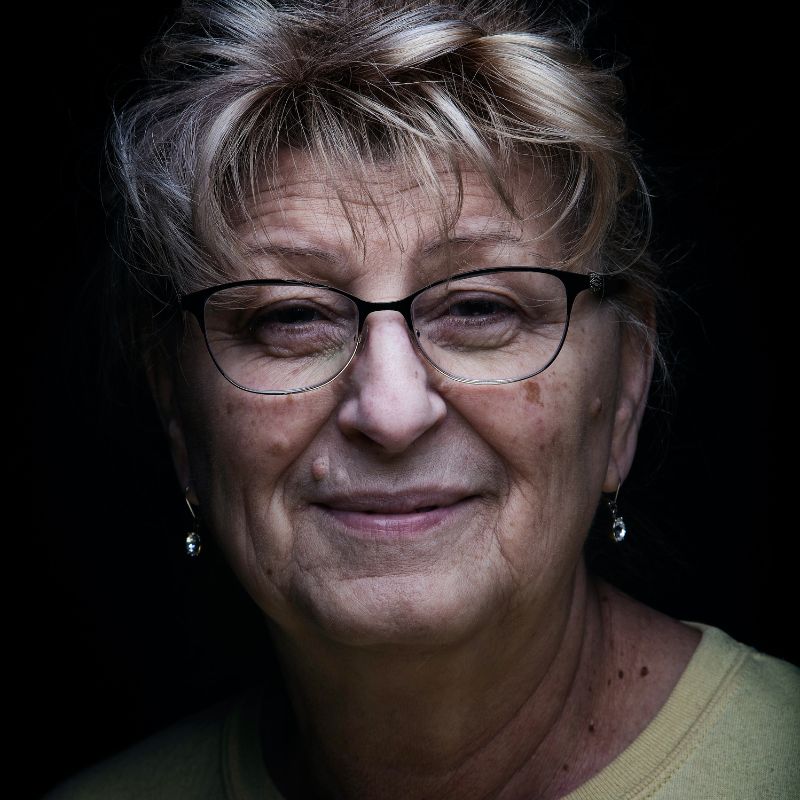 Angela* was born in Long Island, NY in 1959. As a young woman, she enjoyed traveling and visiting museums, and eventually earned a graduate degree in curatorial studies while living in New York. She later began working for an art museum, curating their main collection and archive. Growing up, Angela suffered abuse by her mother, leading to PTSD and estrangement from some of her family members. In her 30's, Angela entered into an abusive marriage, and violence perpetrated by her then-husband resulted in a traumatic brain injury (TBI). Alienated from much of her family, and with others living overseas, Angela had a limited amount of people in her personal life that she could count on. She decided to appoint her brother, who lives in Japan, as her health care proxy (HCP), and completed a living will which indicated several preferences for care in case of a medical emergency. These included a Do Not Intubate/Do Not Resuscitate Order, and specifics about artificial feeding, antibiotics, and pain management. Advance planning also allowed Angela to provide her wishes for a funeral and burial, come the time. 
Project Guardianship was appointed guardian of Angela in 2013. Due to her TBI, Angela needed assistance with both her personal and property needs, including some activities of daily living. Living with PTSD, physical and cognitive deficits from the TBI, ADHD, and an autoimmune condition caused by hypothyroidism, Angela found it difficult to navigate enrolling in benefits, finding health care specialists, and maintaining her finances while living alone. Because Angela had an HCP in place, Project Guardianship was able to involve this trusted person in key aspects of Angela's care, including updates on changes in medication and potential treatments for Angela's varied health conditions as a result of her assault. We regularly make sure that HCPs are aware of their responsibilities as an emergency medical decision-maker. Angela's choice to assign an HCP ensures that she will always have a say in her health care, and that her loved ones will never have to worry about communicating her wishes in the case of a medical emergency.  
A health care proxy (HCP) is a form of advance planning where a person assigns an agent, appointed in writing, who is able to express the person's wishes and preferences concerning medical treatment in an extreme medical situation when the person cannot communicate. In New York, anyone may complete a Health Care Proxy form, regardless of citizenship status. Health care proxies ensure that a person will receive care that is aligned with their wishes and preferences when they are unable to express those wishes. New Yorkers are encouraged to utilize the Health Care Proxy Law and designate an agent whom they trust, preventing complications and clashes between family, loved ones, and health care providers down the road. While for some, especially young people, assigning a HCP can feel premature, it is important to remember that the decision to assign an HCP is not necessarily about end-of-life, but about ensuring that there is a person in your life who you can trust to communicate clearly, and make an informed decision on your behalf. Health care proxies can also ensure that someone who you do not trust to make medical decisions for you will not be called upon to do so. Health care proxy forms are available in several different languages, including: Chinese, Spanish, Haitian Creole, Korean, Russian, and Italian. Providers who may be assisting individuals with filling out health care proxy forms may order multiple copies through this link: Publication Request Order Form. Once the health care proxy form has been filled out, it is essential to give a copy of the completed form to your proxy, primary care provider, and other family members. It may also be a good idea to carry a copy with you in case of an emergency, to ensure that your service providers and family adhere to your wishes. For those without an HCP in New York, the Family Health Care Decision Act (FHCDA) applies. The FHCDA establishes the authority of a patient's family member or close friend to make health care decisions for the patient in cases where they lack decisional capacity and did not appoint an HCP. The persons who are able to act as surrogate decisionmaker for an adult, in order of priority, are: an MHL Article 81 court-appointed guardian (if there is one); the spouse or domestic partner (as defined in the FHCDA); an adult child; a parent; a brother or sister; or a close friend.  
While Angela is a great example of how advance planning tools can be used to enhance dignity as we age, she is unfortunately part of a small community of older adults who access the tools. In particular, immigrants and communities of color in the US use advance planning tools at lower rates than their white and US-born counterparts. Yet, for the immigrant and Black and Latine/x communities who are more likely to face discrimination in health care systems and are less likely to be insured, advance planning can help ensure their care wishes are upheld. Research shows that only 15% of Black Americans utilize advance directives, compared to 52% of white Americans. Dr. Maisha T. Robinson, an expert in palliative care, is concerned about the underutilization of advance directives in the Black community, explaining that patients who are ill-prepared to make painful decisions towards the end of their lives tend to prolong costly, painful, and ultimately unnecessary care that robs them of peaceful time with their loved ones. Antonio Tijerino of the Hispanic Heritage Foundation suggests another reason for the disparate use of advance planning in Hispanic communities: that culturally, many may not feel comfortable speaking about death before it happens. In both cases, there exists a historical mistrust of the healthcare system due to experiences of racism and xenophobia.  
The lower use of advance care planning in non-white and/or Non-English speaking communities is – in part – an issue of accessibility. We must do better to promote culturally and linguistically relevant resources that approach the topic of end-of-life care, advance planning, and more in order to prevent future complications for patients and their loved ones. Research has shown that advance planning can reduce stress, anxiety, and depression in relatives of the dying. Other benefits include "reduced hospitalization at the end of life, fewer intensive treatments, and increased utilization of hospice services" (Shalak, 2022). To further aid access to advance planning tools in communities where they are underutilized, community-based service providers can be trained to approach the topic of HCPs with sensitivity, and frame the discussion as one about communication and trust, rather than end-of-life decision making. With the help of a service provider, individuals and families could be given the opportunity to overcome barriers to assigning an HCP. 
Ultimately, we must do more to support our city's aging populations, particularly those who are Black, Indigenous, people of color, and undocumented immigrants, and provide outreach to help approach the topic of HCPs with those who stand to benefit most. As part of Project Guardianship's coalition-building work, we are improving the continuum of care to prevent unnecessary guardianships. Our efforts to do so are encapsulated in our Good Guardianship and Autonomy Preservation Coalition (G-GAP), which seeks to create or expand alternatives to guardianship throughout New York State. As a multi-sector network of providers, we are working together to increase support for New York's aging and disabled population, keep people out of the guardianship system, define alternative decision-making support options, and deliver supportive services in the least restrictive setting customized to the person's needs. Through coalition-building and outreach, we hope to increase access to and awareness of advance planning options in New York, and bring about a greater trust between communities and health care providers. 
* "Angela " is a pseudonym for a Project Guardianship client. Project Guardianship maintains the privacy and protects the identity of, and all information related to, its clients.